AstraZeneca is no longer the miraculous vaccine; it is a curse destroying many people's lives.
The career of a leading stage actress has been left in tatters after having the AstraZeneca vaccine; while a young mother, widowed after the death of her partner following the jab, has been forced to bring up their child alone.
Both have received payments of £120,000 tax-free from a government compensation scheme set up in 1979 to maintain public confidence in all vaccinations. It's had little scrutiny over the years but the mass rollout in record time of the Covid-19 vaccines has thrust it to the fore.
The scheme is now considered by its critics to be woefully out of date. The current payout under the Vaccine Damage Payment Scheme (VDPS) might sound a lot but the limit has not been raised since 2007.
For people who have suffered terrible, life-changing injuries from having a Covid-19 jab, the sums just aren't adequate. For those who lost loved ones, theirs can be the burden of bringing up children alone and without potentially the regular cash coming in from the family breadwinner.
There are other issues too. The scheme requires that vaccine victims prove they are 60 per cent disabled as a consequence. For those that don't meet the threshold there is literally no money at all, no sliding scale for those left less damaged than others. Bereaved families have successfully applied for financial support from the VDPS by submitting death certificates and coroners' reports saying the death was caused by the vaccine. When a bereaved relative applies for support under the VDPS, they must show, on the balance of probabilities, that the death was owing to vaccines covered by the system.
Figures obtained under the Freedom of Information laws show the scheme has paid out in 148 cases. Of those at least 144 went to the next of kin or else the now disabled recipients of the AstraZeneca vaccine. In total the Government has paid out close to £18 million. About 80 families are seeking to sue AstraZeneca because the government scheme is insufficient.
Meanwhile a further 243 people harmed by the vaccine have been denied government help altogether. They met "the criteria for causation" but failed to show they had been left 60 per cent disabled or worse. In their cases, the independent medical assessor recommended that the vaccine has not caused "severe disablement".
Melle Stewart speaks slowly and with a struggle. "It's incredibly frustrating," she says, "Words are my life and it has gone now. I say the words but getting them out is an issue."
Melle was a hugely successful actress in musical theatre. Her last role, just before the first lockdown, was the lead in Cole Porter's Kiss Me Kate, earning standing ovations at Belfast's Lyric Theatre. Three years on, trying to utter just a few words is a huge challenge.
Melle, 42, now has a piece of titanium the size of her hand, lodged in her skull. The metal plate is protecting her brain and sits in place of that part of her skull that was cut away in an emergency operation that kept her alive.
On May 24 2021, Melle went to her local vaccination centre in south-west London for the Covid-19 jab. In the queue, a volunteer had suggested she was too young for the Oxford-AstraZeneca jab, which by then had been restricted to people 40 and over. But Melle corrected her. She may have looked young for her age – the benefit of being an actress and a singer who didn't smoke, barely drank and did yoga, pilates and dance regularly to keep in shape – but had in fact turned 40 in November 2020. Her fate was sealed; her life changed forever.
Melle was one of the unfortunate few who suffered a catastrophic reaction to the Oxford vaccine. She has received £120,000 from the Government in recognition of the damage the vaccine did. But the VDPS payment is far short of the earnings lost by Melle and her husband, who is now caring for her. The couple are now being forced to sue AstraZeneca despite being "pro-vaccination".
In hospital during the months she spent fighting to stay alive, Melle agreed to a second vaccination – this one using Pfizer BioNTech. They are not anti-vaxxers but do believe they were misled by the Government's reassurances.
"We had an expectation this vaccine was safe to use but AstraZeneca was not safe to use in this case," says her husband, Ben Lewis, 43. "And while there are only a relatively small number of people injured or worse, it is incumbent on the Government to take care of the very few people who have done the right thing for the country and society."
Melle's brilliant stage career is over. For the moment Ben's is too. He starred for a year in the West End as the title role in Andrew Lloyd Webber's Phantom of the Opera, and has put his work on pause to nurse his wife back to health. Their optimism remains remarkable – her husband calls Melle's positivity her "superpower" – but the truth is her health has been seriously and irreparably damaged.
A fortnight after her jab, Melle woke up in the night, unable to "put any weight on my leg and my arm felt slightly peculiar". She couldn't get out of bed and Ben was certain "something was very wrong". Their speed in getting her to the local hospital in Kingston-upon-Thames probably saved her life.
Ben, who does most of the talking for his wife, said that over the next four or five hours Melle "lost the ability to speak and was no longer lucid". She was rushed to St George's Hospital in south London at 5am where a venous scan – a scan of the veins – showed clots in the main vein in her brain, known as a cerebral venous sinus thrombosis.
"They were working out how to deal with that when Melle started having seizures," recalls Ben, who was ushered out of his wife's cubicle. The pressure from the clot was building in Melle's brain, which was by now swelling. Life-saving surgery was needed and that afternoon Melle underwent a craniectomy, a three-hour operation to remove a portion of her skull. In Melle's case they took out a piece of skull the size of her hand.
"I was in a helmet for the next nine months," Melle chips in. Out of surgery, she was moved to intensive care where she stayed for the next month, fully intubated and in an induced coma.
"Without the hospital's expertise it would have been a different story," says Ben. Melle adds one word: "Goner." They are speaking from their new home Brisbane in Australia where they have had to return to be closer to the support of family. The couple had met at drama school in Australia but came to London over a decade ago to further their careers.
From the start, the hospital doctors, said Ben, "were running the hypothesis that this was linked to the vaccine. It was a relatively new diagnosis. But Melle had zero medical history. She was so healthy. She looked after her body like a temple. After all that was her job. She had never even been in hospital before."
A haematologist ran blood tests that showed the tell-tale markers to confirm the vaccine as the cause. Melle had low blood platelet levels and clotting. In four days, she would have five blood transfusions.
The pair had never had Covid – or never knew they had it – but insist having the vaccine was "the right thing to do", not least because the theatre industry had been shut down during the pandemic and mass vaccination was the best way of getting back audiences.
Melle only left hospital at the end of February 2022 and returned to Australia to be closer to her family in November.
After two and a half months, Melle could finally begin to say "yes" and "no", the first signs her speech was coming back following intensive rehab. The bleed on her brain was in the left frontal lobe, the part of the brain that controls spoken language.
An oddity of her condition was that Melle could sing "happy birthday" before she could even say one or two words – the right side of the brain is responsible for musicality. During this interview conducted over Zoom, Melle struggles for the words but then reels off beautifully a version of Abba's Thank You for the Music, a song she knows well from performing for two years in the musical Mamma Mia!.
The right side of her body remains problematic. She struggles to walk and her right arm remains largely immobile. Melle has had to learn to write with her left hand.
"Melle has not been able to work since. It is our number one life goal," says Ben. "Once Melle was sick I decided that if my presence at home helps her recover just one per cent of what she lost then it's worth it."
For now the prospect of a theatrical appearance is a long, long way off. "I am grieving over it," says Melle, "It is hard. That side of things has been taken away from me."
Less than a fortnight after most of Europe temporarily paused the Oxford-AstraZeneca vaccine, Dan Harris had his Covid jab. Less than a fortnight after that, he was dead.
Aged just 32, Dan, who had been fit and healthy, had suffered a catastrophic bleed on the brain. His death certificate officially recorded the cause as an adverse reaction to the Covid-19 vaccine. AstraZeneca is not mentioned on it.
He left behind a fiancee and their one-year-old son. Holly Harris tells their child Carter, now aged four, that his father has "gone to the Moon".
Tears well up in her eyes as Holly recalls sitting at her partner's bedside in intensive care a day after a "brutal" life-or-death operation to relieve the massive swelling on his brain.
"The doctors said he will either make a miraculous recovery or else you should say your goodbyes," recalled Holly, "That evening I held his hand and he was cold. They even put an electric blanket on him to try to warm him up."
The tears come properly now and Holly has to pause. "Nothing," she says, "has been easy."
That includes bringing up their son as a single mother and the battle to secure compensation – widely condemned as inadequate – for the death of her partner and financial provider.
Dan had thought he was being the good citizen, attending his local vaccination centre in Leicester on March 27 2021. Twelve days earlier on March 15, Germany, France, Spain, Italy, Ireland and others announced they were temporarily suspending the use of the AstraZeneca Covid vaccine as a precautionary measure over fears it caused blood clots and while they awaited an investigation by the European Medicines Agency (EMA).
Much of the Continent ploughed on with its vaccination rollout but used the alternative Pfizer BioNTech vaccine instead. On March 30, Germany announced it was limiting the AstraZeneca vaccine to the over-60s.
On April 7, the EMA found a possible link between the vaccine and very rare cases of blood clots with low blood platelets. But, said the European regulator, "the overall benefits of the vaccine in preventing Covid-19 outweigh the risks of side effects".
It would take until that same day for the UK Government-appointed vaccine committee to advise under 30s not to have the AstraZeneca vaccine, developed in Oxford, because of blood clots and another month to apply the same rule for the under 40s. All of that came too late for Dan.
Over the Easter bank holiday – just as the Government was finally easing some lockdown restrictions – Dan first complained to his partner he was feeling unwell. "He had flu-like symptoms and he was shaking," recalls Holly. It was nine days after his jab. The next day, April 6, Holly remembers waking up at 5.30am "to this horrendous noise. A noise I had never heard anyone make before". Her partner was unable to talk, but instead was making a gurgling sound. "His eyes," recalls Holly, "were glazed over. He wasn't responsive. He wasn't cognizant."
At that point Carter woke up while paramedics called to the family home examined his father. By now, the left side of Dan's face had "dropped" and the ambulance crew suspected he had had a stroke. Dan was rushed to Leicester Royal Infirmary. The next 72 hours, doctors told Holly, were critical. Prevented by Covid restrictions from visiting (10 days later Downing Street staff would throw a party on the eve of the Duke of Edinburgh's funeral), the family Facetimed Dan as he lay in his hospital bed.
"He couldn't talk but he was waving his arms around. We were trying to get Carter to talk to him," said Holly. Later in the day, Dan appeared to rally. "He said 'hello' but he was drifting in and out of consciousness.
Carter used to call him "Pop pop" and Dan then said "Pop pop" back. We just thought this is amazing, he is going to come through."
He didn't. Holly said goodbye to her partner and he said goodbye back. "It was the last time he spoke," said Holly.
The next day – April 7 – Dan was taken to a specialist hospital in Nottingham to undergo an emergency cranial operation to cut open his skull to relieve swelling on the brain. "His brain activity had just gone," said Holly. She saw him at the hospital but by then he was "just grey, he wasn't there". The operation took place at 1.30pm on a Wednesday and the family were allowed into the critical care ward. They sat with him until the Friday night when he was pronounced dead at 7.40pm.
More than two years on, Holly has joined the legal action trying to obtain an apology and appropriate compensation from the Government and from AstraZeneca. A government scheme finally paid out £120,000 but because the couple were not married, and because Dan had not left a will, the VDPS, which approved the payment in May this year, is holding on to the money, demanding paperwork before it will release the funds but only to be held in trust for Carter.
It is, regardless of the bureaucracy, an inadequate recompense for the loss of life and loss of Dan's income as a business development executive. "Personally I feel like the Government knew all along that the vaccine wasn't safe," said Holly, "They did nowhere near enough testing. They were in a rush… I think they knew it was going to affect some but they only cared about the vast majority. But what if it's your partner or your father who has died? I have no respect for the Government and we have had nothing from them at all."
She struggles now to bring up her son. "It is horrendous, simply horrendous. Every day is hard," said Holly. The couple had been due to marry and had had to cancel twice because of lockdown. A wedding date had been set for a third time when Dan collapsed.
She knows too the day is coming when she has to explain to Carter that his father will never be coming home. He is just getting to that age where he is beginning to understand. She shows him videos and photos every night to make sure he knows who his dad was and what he looked like.
"He doesn't remember Dan and he never will," said Holly, "Even now he says I want dad to come back." She's told the boy his father is on the Moon. But Carter's not stupid. He wonders why – if that's the case – he didn't take his phone with him.
Claire Hibbs has a longstanding reputation amongst her friends for having bad luck.
So when she was invited to have her Covid jab in March 2021 – ahead of many of her peers – it became something of a joke that she could test it for the rest of them.
Her colleagues teased her affectionately "if anything bad is going to happen, it's going to happen to Claire".
Unfortunately their words proved prophetic.
Five days after being vaccinated with AstraZeneca, the mother of two from Hitchin, Hertfordshire, developed an "almighty headache".
It was only when a large blood clot came out of her nose during a nosebleed that she called NHS 111 and was sent to A&E. After she was admitted, she messaged her colleagues.
"I wrote, 'you're not going to believe this, I'm actually being treated for a suspected blood clot'," she said. "I got a load of laughing faces back. But I said, 'No, I'm being serious.'"
On her 10th day in hospital, doctors told her she had vaccine-induced immune thrombocytopenia and thrombosis (VITT).
"I said, 'can I die from this?' And they replied, 'There have been fatalities, so we don't know if we can save you, but we'll do our best'."
She describes it as "the most petrifying time of my life".
In addition to VITT, Mrs Hibbs was diagnosed with portal vein thrombosis and pulmonary embolism, all adverse reactions to the AstraZeneca jab.
"When I first came out of hospital I thought, 'I'll be all right in a few weeks.'"
That was nearly three years ago. Mrs Hibbs still suffers with chronic migraines, muscle and joint pain, brain fog, breathlessness, fatigue, and post-traumatic stress disorder (PTSD).
The once-active 50-year-old, who says she used to "live for" hiking in the Lake District, is now medically retired from her work in airline operations. She also gets panic attacks when going to hospital and is unable to fly to see her son who is serving in the army overseas.
Even so, in January this year, the claim she had made to the VDPS was rejected. The medical assessor accepted that she had been harmed by the AstraZeneca jab, but concluded she was only 16-25 per cent disabled as a result. The assessor argued that the rest of her disabilities were likely to be caused by other issues such as the "co-existing condition of menopause", "work stress" or the fact that she had experienced infrequent migraines in the past.
Mrs Hibbs finds these assumptions "laughable", not least because she had not been menopausal at the point that the symptoms began.
A consultant neurologist had already attributed her chronic migraines and fatigue to the Covid vaccination.
And in the same month that the VDPS rejected Mrs Hibbs's claim, her haematologist also confirmed that he believed her brain fog, muscle aches and pains, fatigue and headaches were caused by VITT.
Now Mrs Hibbs is determined to overturn the VDPS finding. "I am appealing, and I am appealing hard," she says.
THE LOCKDOWN FILESThe Forgotten VictimsLISTEN NOW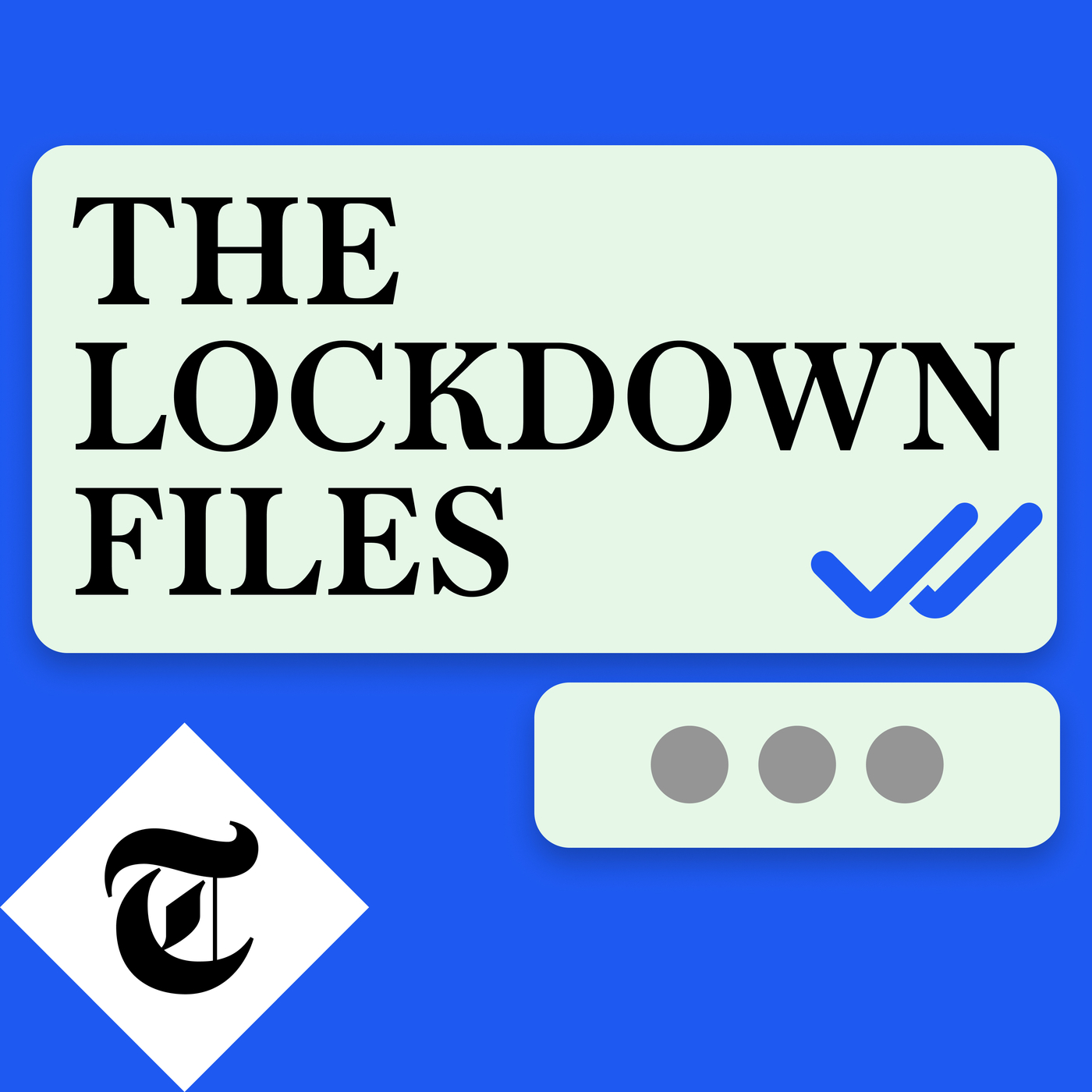 Families bringing legal actions against AstraZeneca have launched a fundraising campaign to help to pay for the litigation which can be found here.