Italy is making surrogacy a crime: those hit by this law want to come and live in Malta.
This article on the BBC website concerns the current debate on surrogacy in Italy. Italy is making surrogacy a crime. Those affected by this law are considering coming over to live in Malta. While I am against surrogacy, I agree with the main gist of this article that passing strict rules will lead to nowhere. What the conservatives should avoid is creating modern martyrs. They should not copy the left in introducing punitive laws to stop surrogacy. There are other ways, and more civilized ones, to tackle the adverse effects of surrogacy. The method proposed by Meloni is not the best one. While governments must legislate to regulate this sector, at the same time, governments should be extra cautious that the proposed laws do not adversely affect children. Instead, the government should pass laws offering additional protection to children born in this way as they are destined to be more vulnerable in society due to cultural and legal reasons. The mistakes of the parents should not fall on the children. The following is the article that appeared on the BBC website.
Italian authorities are bringing in new measures targeting LGBT families and making it harder for them to have children. Many same-sex parents feel that a new law, which would make it illegal to have surrogacy abroad, is a personal attack against them.
"We have two options: to stay in Italy and face prison, or to run away."
Husbands Claudio and Davide (not their real names) have a baby on the way through surrogacy – a woman in another country is carrying their son for them.
The practice is illegal in Italy and most of Europe, so couples travel to countries where it is legal – such as the US and Canada – and bring their babies back home.
But the Italian senate is set to approve a bill that would make surrogacy a "universal crime" – one so serious that it would be prosecuted even if committed abroad, like human trafficking or paedophilia.
No other country has a similar ban.
If the bill becomes law, couples like Claudio and Davide could face a fine of one million euros (£872,000) and up to two years in jail.
"I'm afraid that our child won't have his parents because we will be in jail," Claudio says.
The couple are terrified about what might happen to them and their child, and have asked us not to reveal their identities. They fear someone in the Italian government could find out who they are and target them.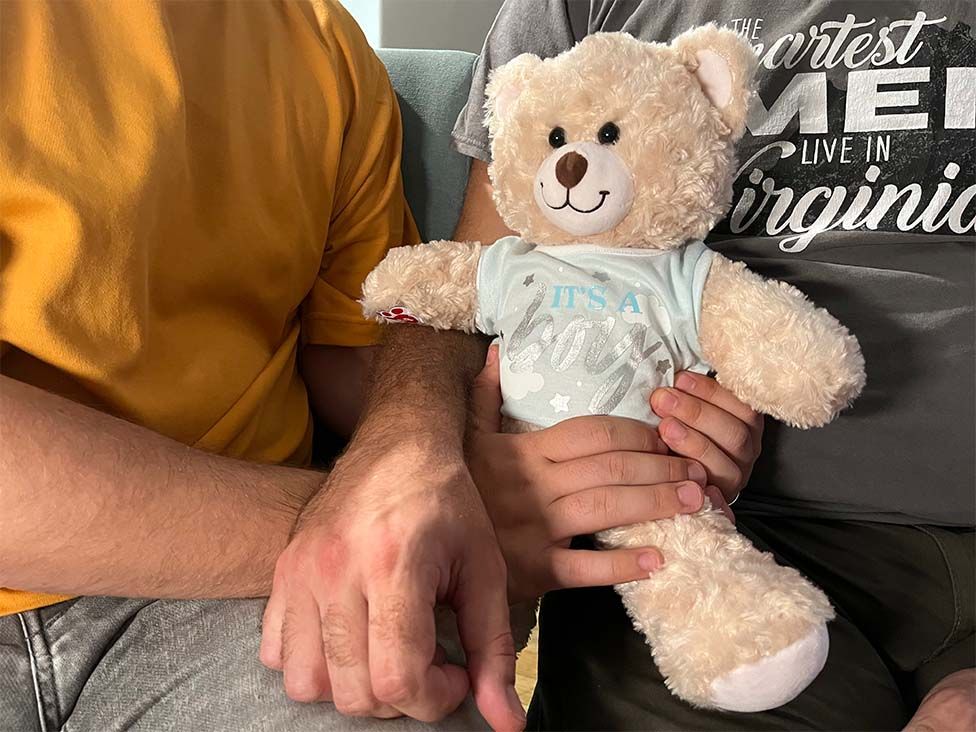 They are getting ready to escape, seeking political asylum in more LGBT-friendly European countries. Davide is learning Dutch and Maltese in preparation.
"I feel like I'm being forced into exile, just for wanting to become a father," he says.
It would be an incredibly difficult move for the couple, who would miss their supportive community.
"Our families and friends are all really looking forward to meeting the baby," Claudio says.
And they are heartbroken at the thought of being forced out of Italy.
"I don't want to leave my country. I am proud to be Italian," Davide says.
"I'm trying my best to be a good citizen, and now I'm being treated like a criminal – just because I want to have a family."
The surrogacy bill is part of the socially conservative agenda of Giorgia Meloni – Italy's first female prime minister, whose Brothers of Italy party is a direct political descendant of a movement formed by members of Mussolini's Fascist Party after the war.
She describes herself as a Christian mother and is a firm believer that a child should only be raised by a mother and a father.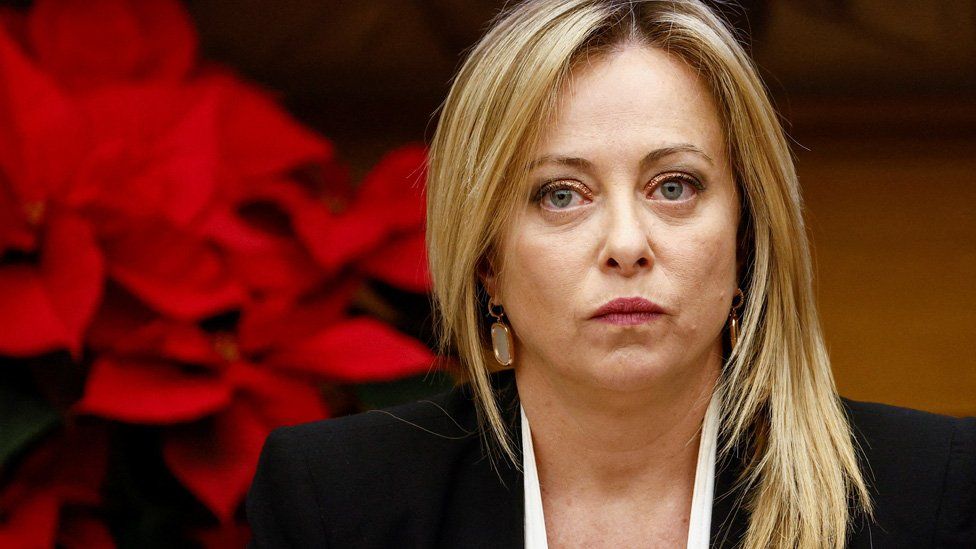 This is a country where the influence of the Catholic Church has always been strong – gay marriage is illegal, and same-sex couples have fewer rights than in most of Western Europe.
Artificial insemination or adoption are not options for LGBT couples here, so for many, surrogacy abroad is the only way to have a family.
The practice has been at the centre of a fractious political debate.
Meloni has described it as "a symbol of an abominable society that confuses desire with rights and replaces God with money".
And Deputy Prime Minister Matteo Salvini compared surrogacy to using a cash dispenser: "An ATM-woman… that produces babies… is an aberration," he said.
"I will fight this barbarous and inhumane practice – just the thought of it makes me sick."
But Angelo Schillaci, Professor of Comparative Public Law at Rome's Sapienza University, calls the proposed law "irrational" and says it does not make sense to place surrogacy in the same legal category as paedophilia and crimes against humanity.
"This bill is seeking to punish things that are perfectly legal in countries that are our allies, such as the US and Canada," Prof Schillaci says. "It would be like prosecuting someone for smoking weed in Amsterdam after they've come back home.
"This is really problematic because it's part of a wider attack on LGBT rights in Italy," he adds.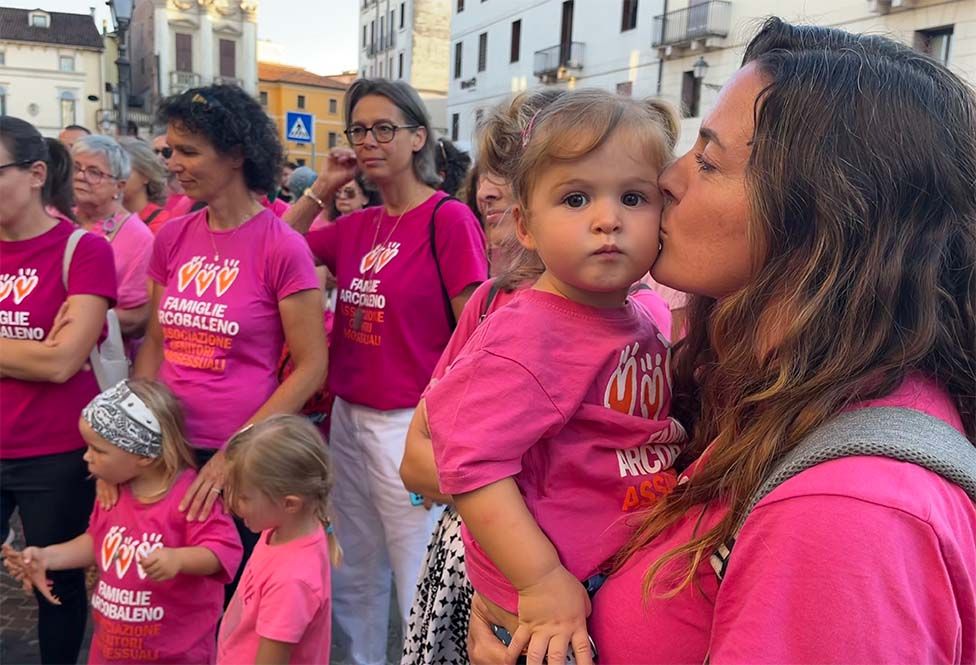 Carolina Varchi, the Brothers of Italy MP who drafted the bill, vehemently rejects that. "Most people who use surrogacy are heterosexual," she says.
Experts have told the BBC that 90% of the couples who use surrogacy in Italy are straight, and many of them hide the fact that they have gone abroad to have a baby.
But same-sex families returning to Italy with a child will not be able to hide.
Ms Varchi strongly believes the new law will "protect women and their dignity".
"It's intolerable. Women's bodies are reduced to objects that are rented for nine months to bring a child into the world, who is then ripped away to be delivered to the clients."
Ms Varchi adds: "We are not discriminating against children. This bill only targets the parents who commission a baby."
She told the BBC that surrogacy should be seen as a crime as serious as paedophilia, and prosecuted as such. However she suggested that most people would receive a fine, rather than face prison.
In countries where surrogacy is legal, regulations vary – including whether or not a surrogate can be paid more than expenses, and what steps must be taken to ensure surrogates give free and informed consent.
But Ms Varchi believes that even in countries like the US and Canada – where surrogacy is heavily regulated – women do it for the money.
"This is a business worth billions," she says. "In 2023 we must have the courage to say that money cannot buy everything – it certainly cannot buy a woman's body, it cannot buy a human life."
But the families the BBC spoke to say they have great relationships with their surrogates.
Carlo and Davide's surrogate even gave them a teddy bear that plays the sound of their son's heartbeat, which she recorded during an ultrasound.
"When politicians talk about surrogacy, they use the term 'uterus for rent'," says Maurizio, whose twins were born to a surrogate in the US eight months ago. He feels the phrase is designed to humiliate.
And it's not just surrogacy – the Italian government is also using other ways to make it more difficult for LGBT parents to create a family.
Before Mauro and Maurizio were able to have their twins' American birth certificates recognised in Italy, their council in Milan – like other local authorities across the country – were ordered by the government to stop registering same-sex parents' children.
At the time of our interview they told us that the move had so far deprived their twins of Italian citizenship and means they would have difficulties having access to the country's free health care system and nursery schools.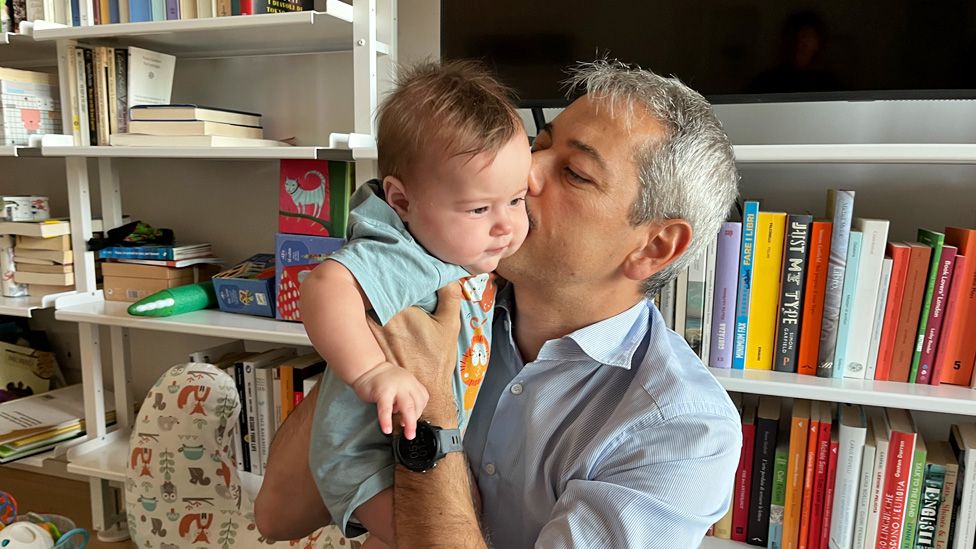 "Our twins don't exist in the eyes of the Italian state," Mauro says. "They are treated like illegal migrants. It's profound discrimination."
It's causing them huge anxiety – every time they leave home with the children, Luisa and Giorgio, they carry all sorts of documents in case they need to prove that they are in fact their fathers.
Brothers of Italy MP Ms Varchi points out that "non-biological parents can ask our courts to adopt the children – in special circumstances, this will be recognised".
However this process, called "step-child adoption", is expensive and can take years.
"It's humiliating to adopt your own child," Mauro says. "The government's belief that gay parents cannot raise happy children is homophobic."
In the northern city of Padova things have taken a more drastic turn. A state prosecutor has demanded the cancellation of 33 birth certificates of children born to lesbian couples dating back to 2017. All non-biological mothers will be removed and they will lose their rights over their children.
Caterina is one of the children whose world has been turned upside down. Born using a Danish sperm donor, she has blond hair and blue eyes.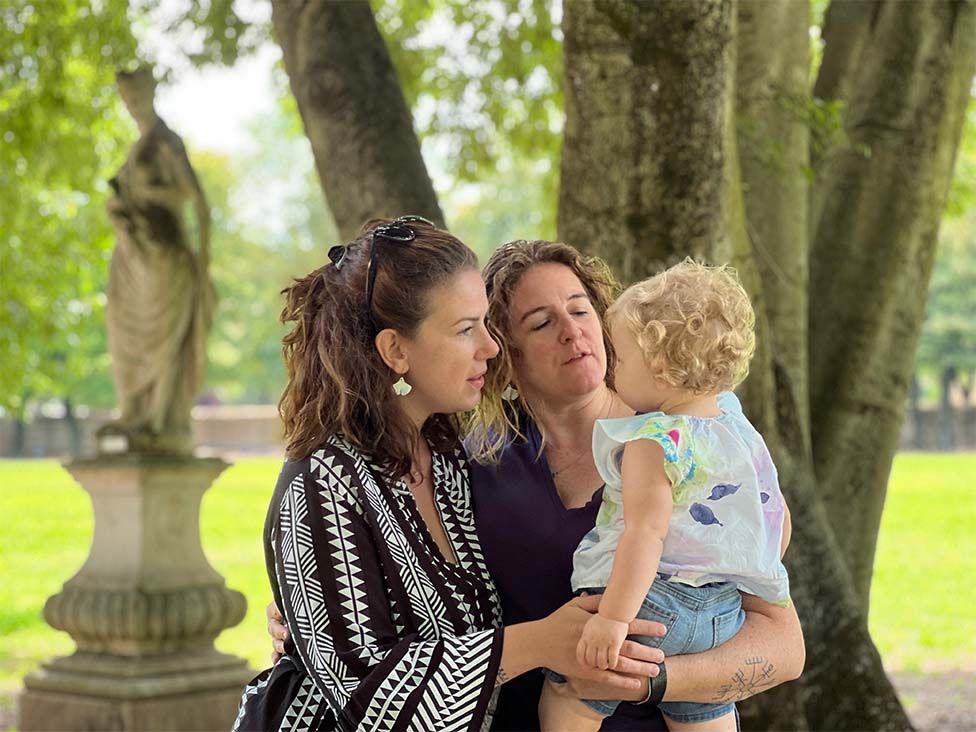 Her mums, Valentina and Daniela, chose to register her in Padova because the city's mayor was willing to put same-sex parents on their children's birth certificates.
But now their daughter is suspended in a legal limbo.
"All queer people in Italy are under attack. For the government, our families are not real families," Valentina says, holding back tears while she watches her 16-month-old chase rabbits at the park.
As her daughter's birth mother, her status is secure. But the order from the prosecutor is that Daniela's last name be removed from Caterina's birth certificate.
"I won't be able to take my daughter to school, I won't be able to make decisions for her at a hospital, I won't be able to travel abroad with her, without Valentina's written permission," Daniela explains ruefully.
"If Valentina were to pass away, our daughter would become an orphan of the state, and she would lose me too."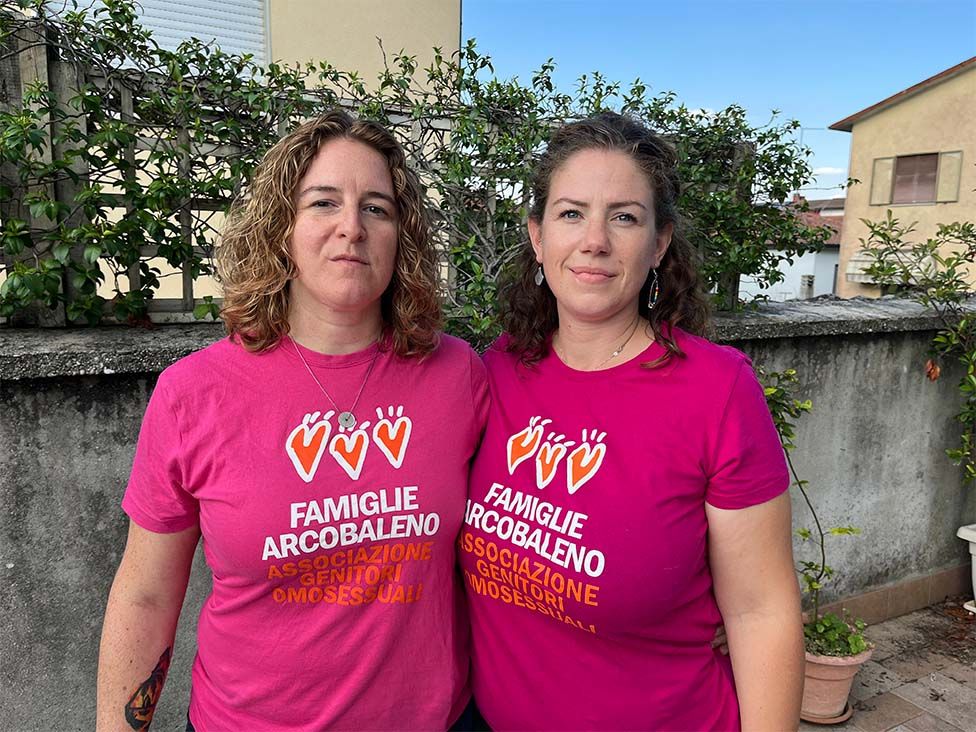 All affected mothers in Padova are preparing to go to court to challenge the decision – but judges have routinely ruled against same-sex parents in the past.
"We feel like the Italian government is waging war against our children," Valentina says.
Like other LGBT parents, they believe the right-wing government wants to impose its idea of a "traditional family".
"I'm really angry. This is a total injustice: our children are being targeted because of an ideological choice," Daniela says.
So far, there is no suggestion the government will back down.
The proposal to make surrogacy a universal crime is likely to become law – chipping away at the already fragile status of Italy's LGBT community.
Those we spoke to told us that they don't want their children to be treated as second-class citizens – and they will keep fighting for their right to have a family.
"We are all furious," Daniela says. "It makes our blood boil, and it gives us the energy to keep fighting. Like all dark periods, we have to face it with courage."

Surrogacy laws around the world
Italy, Spain, France and Germany are among the European countries which outlaw all forms of surrogacy
In Ireland, the Netherlands, Belgium and the Czech Republic, it's not possible to go to court to enforce a surrogacy agreement if it breaks down
In the UK, it is illegal for third parties to arrange surrogacy for profit and the surrogate will be registered on the birth certificate until parenthood is transferred via a parental order
Greece accepts foreign couples and provides legal protection to the intended parents – the surrogate has no legal rights over the child – however Greece insists there should be a woman in the relationship (thus excluding gay couples or single men)
The US and Canada allow surrogacy for same-sex couples, and recognise them as the legal parents from birth
Previous attempts to ban surrogacy abroad have failed in other countries – including Australia and Hong Kong. "The laws were unenforceable – there was no appetite to prosecute because it would be disastrous for the child," explains surrogacy lawyer Natalie Gamble from the UK firm NGA Law